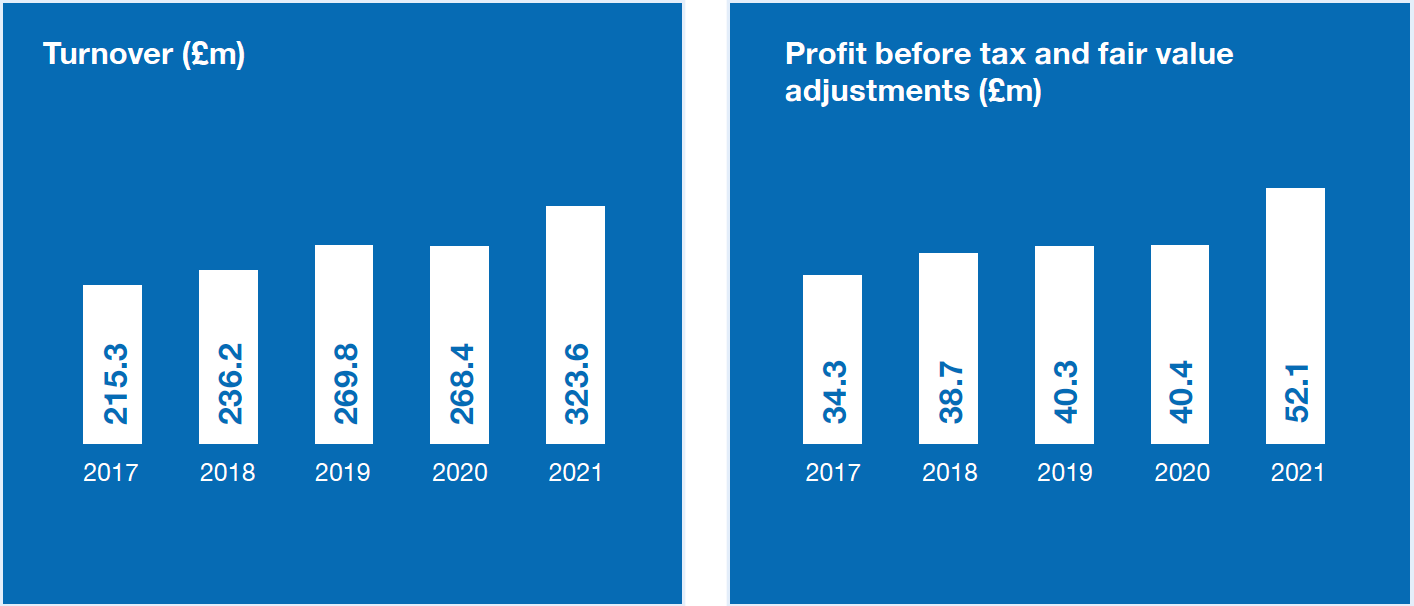 Peter M. Dawson, Chairman, commented:
The underlying strengths of Dawsongroup, a family business built up over many years, have proved fundamental in maintaining successful growth during one of the company's most challenging years. Dawsongroup's long term formula of a low-risk approach, supplying strong credit worthy customers with modern  equipment, excellent support and outstanding service is a simple formula that works.
In addition to the impact of Covid, the challenges facing the business this year have been compounded by rapidly rising inflation and interest rates plus a global shipping crisis and a severe shortage of semi-conductors restricting new equipment availability from our suppliers.
Despite these difficulties, Dawsongroup succeeded in delivering both improved revenue and profitability in 2021. This resulted from an outstanding performance across the group by the whole Dawsongroup team – board, management and staff – for which the Dawson family expresses their deep thanks and appreciation. The enthusiasm and  motivation of our staff has enabled consistently high utilisation levels to be achieved despite the succession of lockdowns and forced staff absences due to individuals having to isolate or quarantine.
Our important relationship with our finance and banking partners has also remained excellent with continued support throughout the year. This has been reinforced by Dawsongroup's decision to initiate a full market credit rating using Kroll Bond Rating Agency (KBRA), which resulted in Dawsongroup securing an investment grade credit rating of BBB at the end of 2021. This is a great achievement which not only reconfirms the strength of Dawsongroup's balance sheet and the strategy and governance of our business, but also improves our access to funding and widens the scope of investments that Dawsongroup will be able to undertake in the future.
Throughout 2021, Dawsongroup has continued to invest strongly. Overall fleet size has increased by around 10%, despite availability constraints. Investment in both new operating facilities and improving existing ones is continuing. Following the completion of new supersites at Avonmouth and Heathrow, 2022 will see the start of significant expansion and redevelopment of Dawsongroup Sweepers' site at Brighouse, Dawsongroup's head office at Milton Keynes and the development of a new site in Spain.
Strategic investments have also been made in new product sectors, as well as the establishment of new cold storage solution companies in the United States and New Zealand, all of which will help drive profitable growth in future years. Managing our impact on the environment and accelerating our road to zero has become an import target for the group and we are currently in the process of developing a long-term strategy to meet our own ambitious targets. To this aim, we will be recruiting specialist resource to deliver in this area.
If you would like a hard copy of our Report and Accounts, call us on 01908 218111 or complete our contact form and we will send you a copy by return.