SUSTAINABLE
SUSTAINABILITY
HOW DOES DAWSONGROUP OFFER SUSTAINABLE SUSTAINABILITY FOR YOUR COMPANY?
Dawsongroup offers sustainable solutions across the entire supply chain. From field to fork and from wheeled assets to temporary buildings and specialist modular facilities, our Smarter Asset Strategy solutions provide companies with the agility to adapt to new technologies and a changing world by utilising usership over ownership. We support our customers in the transition to net zero through advice on alternative fuel and power sources, streamlining processes, and improving efficiencies to save energy and money.
PROVIDING SUSTAINABILITY THROUGHOUT THE ENTIRE SUPPLY CHAIN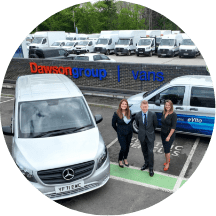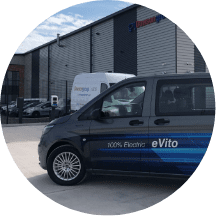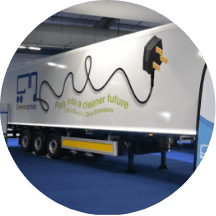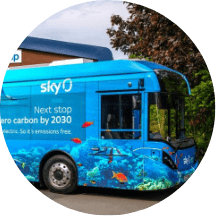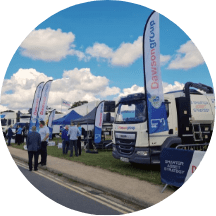 TEAM TARGET ZERO: ADVICE YOU
CAN COUNT ON
With the government's deadlines to stop the sale of petrol and diesel vehicles rapidly approaching, the journey to net zero is one that everyone must embark upon, and sooner rather than later. Dawsongroup vans is already on its way, and has set up a team of advisors – Team Target Zero – to assist customers and suppliers on their own fleet's route to net zero.
"It's up to us to play our part in achieving the country's target of net zero by 2050," said Emma Naylor, Project Development Manager and one of the Team Target Zero leaders. "But we're also aware that we contribute towards our customers' net zero plan, so we want to expedite our achievement of that goal."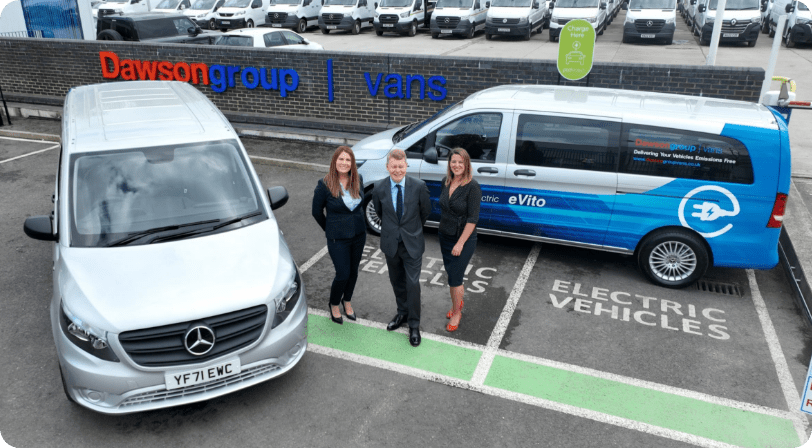 Team Target Zero are available to provide a consultative service for both suppliers and customers. They can advise on everything to do with the transition to net zero emissions in your fleet, from alternative fuel vehicles and which is the best type for your business to EV charging infrastructure and how to drive electric. They want to make sure you understand all aspects of the transition and which options are available to you, as well as what you need to do to achieve your goals in real terms.
QUICK CARBON REDUCTION WINS
Transport is the main contributor to carbon emissions, and it is also the easiest way to lower your carbon footprint. Team Target Zero can advise you on the changes coming and how to adapt your business, as well as filtering the wealth of data to provide specific information that is relevant to you.
"Just like for our customers, reducing the carbon emissions of the transport we use is the easiest way to make a start," said Victoria Lloyd, Regional Head of Sales and co-leader of Team Target Zero.
"Dawsongroup vans already has the infrastructure in place to support electric vehicles (EVs), so it makes sense to invest in our own fleet. We also want to make sure that we are practicing what we preach, as we can't recommend EVs or other alternative fuel vehicles if we haven't used them ourselves."
As the focus on reducing carbon emissions falls on larger companies, with medium and smaller companies not far behind, they will need to look at their supply chain to see where they can make changes. Dawsongroup | vans is putting in the groundwork now to ensure that we are ahead of the game. By taking on the social responsibility and being at the forefront of making the shift towards carbon neutrality, our role in the supply chain already provides energy security for the future.
PLANNING FOR THE FUTURE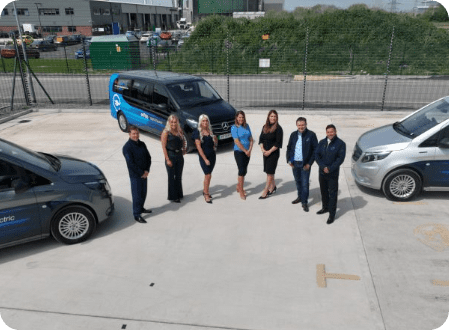 There will be many difficulties on the road to net zero, with one of the main concerns being cost. No one knows what the financial implications may be in the future, whether staying with petrol and diesel vehicles or deciding to transition to alternative fuels now. Team Target Zero will always be honest and up front with their advice and will only recommend a sustainable and practical solution that will suit your business.
"We've all got a moral obligation to work towards a more environmentally friendly future. We can't continue as we are," said Simon Ridley, Managing Director of Dawsongroup vans. "Our efforts won't work if we don't start taking action soon. Yes, there will be problems and challenges along the way, but if we don't start learning to deal with them it will be a much tougher challenge in the future. We can't underestimate the task ahead."
Team Target Zero will be guided by customers and what they need from us, as a supplier, to assist them in this process. As well as advice, in the future the team will provide best practice guides and spec sheets for different alternative fuel vehicles to help you prepare for a future without diesel vehicles.
"We are looking at how we, as an organisation, deliver on our objectives to get to net zero," said Simon. "We want to help our customers achieve the same objective and support them through the transition. Ultimately, Team Target Zero is about the future."
TO FIND OUT HOW TEAM TARGET ZERO CAN HELP YOU WITH YOUR TRANSITION TO NET ZERO, CONTACT YOUR LOCAL DAWSONGROUP VANS REPRESENTATIVE TODAY.
DAWSONGROUP (E)VITOS
CO2 ON DELIVERY
Dawsongroup vans is leading from the front with their new fleet of 15 fully electric Mercedes-Benz eVito Tourers.
The eVito fleet, which transports drivers between collection and delivery addresses across the UK, has replaced 60% of the diesel delivery fleet. The ambition is to replace the remainder with equivalent battery electric vehicles (BEVs) by 2023. This represents a significant investment in electric vehicles (EVs) and demonstrates Dawsongroup vans' commitment to help customers move to a fully electric fleet themselves.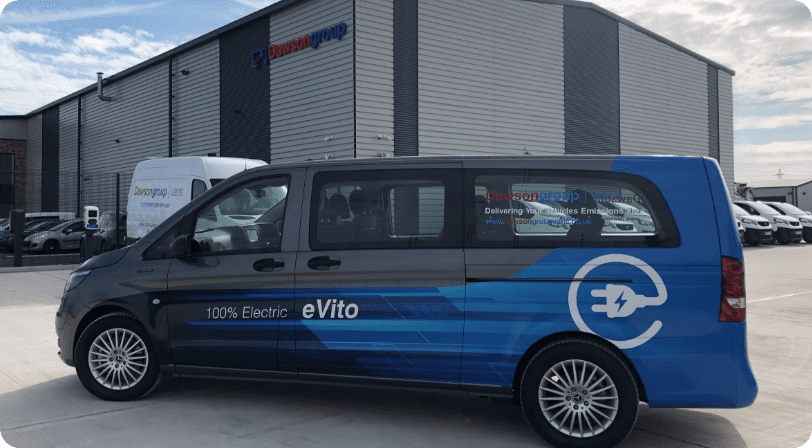 With a real-life range of over 200 miles and rapid charging capabilities, the eVito Tourer is an ideal mode of transport between depots and customers. Top of the range safety features, such as active brake assist and attention assist, are fitted as standard – essential for the safety and comfort of our drivers. Being fully electric, the eVito has zero carbon dioxide emissions at the tailpipe, making it better for the environment as well as exempt from low and zero emission zone fees and congestion charges.
MARKET LEADING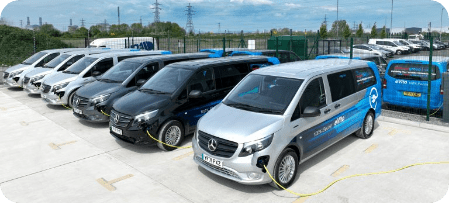 The eVito Tourers feature a market leading 100kWh battery which has a range of over 200 miles on a single charge, and following intensive trials conducted from two of our locations, we can confirm that they live up to that. We estimate that replacing our 'runners' with eVitos will save over 30kg of CO2 every day, or almost nine tons a year – the same weight as a Tyrannosaurus Rex – per vehicle.
"We're very excited to operate such an outstanding product," said Simon Ridley, Managing Director. "Driving can be very exhausting, especially when driving in congested areas, so the comfort and overall experience for the drivers has been a vital point in choosing which vehicle is right for us. We think it's the right time to invest in EVs and more importantly, if we're persuading customers to move to EVs we should be making the transition ourselves first. We are over the moon to be one of the first rental companies in the UK to transition to EVs."
"It's exciting," said Steve Miller, Dawsongroup CEO. "We want to be not just up to date, but ahead of the curve. With this new fleet of eVito runners we are doing just that and gaining valuable operating experience to share with our customers."
The drivers at Dawsongroup vans are also enjoying the new eVito Tourers, despite a little scepticism at first.
"Having been involved in the motor industry in several positions for many years, I was quite sceptical regarding the use of electric vehicles," said Terry Brown, driver/valeter for Dawsongroup vans, Stockton. "After collecting the eVito and driving back to Stockton, my mind began to change, and now, having driven it on a daily basis and covered over 3,000 miles, I am a full convert on the use of electric vehicles and will choose to use the eVito whenever possible."
"They are smooth to drive, comfortable and spacious," said Andy Parkin, driver/valeter at Dawsongroup's Avonmouth Supersite. "It's practical because you can fit nine people in it and it's better for the environment. Basically, it's much better than a petrol or diesel vehicle."
Dawsongroup vans already has 60 22kWh EV charge points installed at all 13 of their locations to ensure that all EVs are charged overnight ready for use the next day. In addition to this, and to dispel any range anxiety, there are more public charge points across the UK than most people realise: as of May 2022, there are over 32,000 – almost four times as many as there are petrol stations – and there are government plans to increase this number tenfold by 2030.
Look out for our new eVitos in your area today!
CONTACT TEAM TARGET ZERO OR YOUR LOCAL DAWSONGROUP VANS REPRESENTATIVE TO HELP YOU WITH YOUR TRANSITION TO NET ZERO.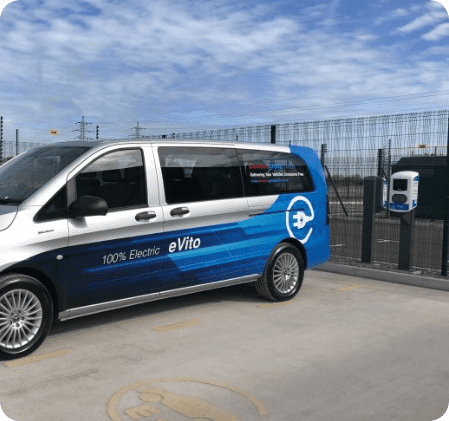 ALL-ELECTRIC CARRIER
TRANSICOLD VECTOR ECOOL
UNITS ADDED TO OUR FLEET
We recently took delivery of three Carrier Transicold Vector® eCool™ units, becoming the latest UK company to specify the world's first fully autonomous, all-electric engineless refrigerated trailer system, thereby cutting our fleet's emissions.
The new Vector eCool systems will operate with the engineless versions of the Carrier Transicold Vector HE 19 MT (multi-temperature) and Vector 1550 on two 13.6-metre trailers, with an additional Vector HE 19 MT mounted on a smaller double-axle urban trailer, all built by Gray & Adams.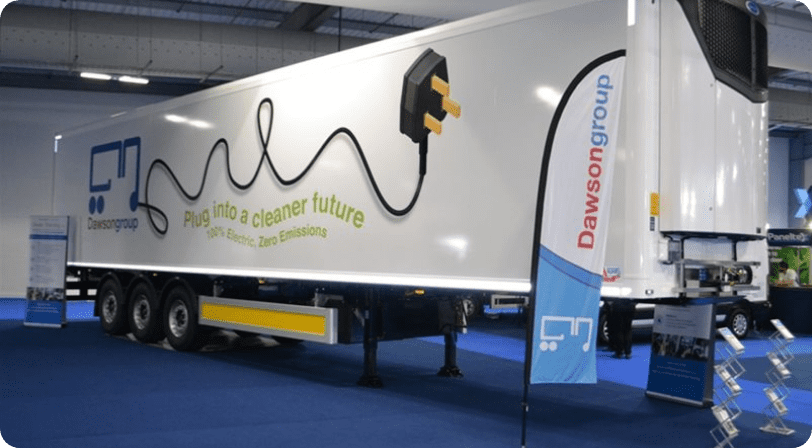 They join our temperature-controlled rental fleet of close to 2,000 trucks and trailers – which is around 90% Carrier-cooled – and will demonstrate to our customers that the Vector eCool system can deliver significant sustainability benefits and cost savings.
"We've been working with Carrier for more than 25 years," said John Fletcher, our Managing Director. "They are peerless in the industry for quality, support and innovation – so we were excited to see the Vector eCool in action, and we weren't disappointed. Now, we want to showcase these trailers to customers so that they can see for themselves how the technology can deliver a cost-effective alternative to diesel power that ticks all the right boxes from an environmental perspective. We exhibited one of our new trailers at the ITT Hub event in May."
The Vector eCool unit combines Carrier's E-Drive™ all-electric technology with a new cutting-edge energy recovery and storage system. This converts kinetic energy generated by the trailer axle and brakes into electric power, which is stored in a battery pack that powers the refrigeration unit – a loop that creates the industry's first fully autonomous system, producing no direct carbon dioxide (CO2) or particulate emissions.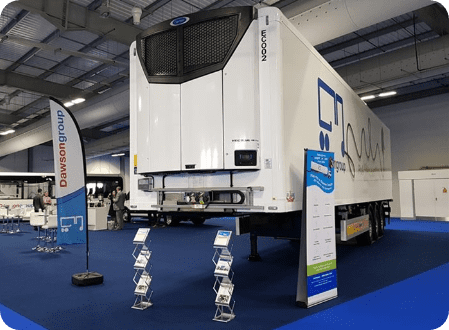 The trailers can be plugged into the electrical grid when parked and fully charge in just two hours using a standard five-pin, three-phase standby plug. The system is also ultra-low noise, operating below the PIEK standard, which combined with its emissions performance means it offers the ultimate solution to tightening inner city and urban regulations, while creating a more harmonious working environment for drivers.
"With the red diesel rebate removed and the cost of fuel in general going through the roof, this technology ties in closely with what we are trying to promote as a business to our customers. We want to be able to show that there are workable alternatives – which mostly come from Carrier – available for all types of temperature-controlled vehicles, and we're certain the Vector eCool system will fit into that bracket perfectly," added John Fletcher.
With more than 85 years of experience in the commercial vehicle sector, we're eager to add more sustainable refrigeration systems to our rental fleet.
"Being able to introduce the Vector eCool together with Dawsongroup to its rental customers in this way represents a fantastic opportunity to showcase the future of refrigerated trailer technology is available today," said Scott Dargan, Managing Director, UK & Northern Europe, Carrier Transicold. "We're excited to demonstrate how effective the system is at lowering fleet emissions for Dawsongroup's customer base, while proving how simply and effectively it can fit into standard operations without the concerns and constraints typically associated with engineless technologies."
JOINING FORCES ON THE
JOURNEY TO ZERO EMISSIONS
The demand for alternative fuels is changing. With the government's Net Zero Strategy and a desire to provide sustainable passenger transport solutions, bus and coach operators have begun transitioning to more sustainable passenger transport solutions. A transition that may raise questions for some regarding fuel technology, charging infrastructure and budget impacts.
Dawsongroup bus and coach (DGBC) works closely with our supply partners on innovative ways to minimise carbon emissions, and our modern fleet includes the latest technology in alternative fuel vehicles.
Together with Cobra Corporate Services (Cobra) and Alexander Dennis (ADL), we have recently introduced eight new BYD ADL Enviro200EV buses to Cobra's fleet. The buses are used for the complimentary employee/visitor shuttle bus service Cobra is running for Sky at its Livingston Campus in Scotland and Osterley Campus in London.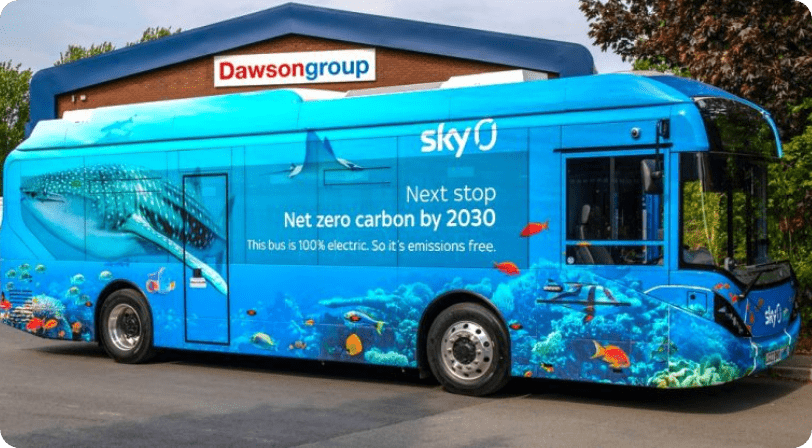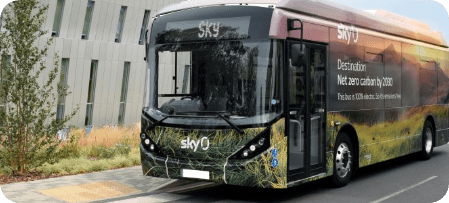 Benefitting from our longstanding partnership and our fully supported contract hire solution, Cobra has been able to concentrate on delivering the same high-quality service to Sky as it has been providing for the past nine years.
The all-electric, zero-emission buses have replaced non-electric vehicles and will assist Sky in reducing its carbon footprint and achieving its goal of becoming net-zero by 2030. The low-noise battery technology behind the BYD ADL Enviro200EV enables Cobra to run a full day's shuttle bus service on one charge, helps improve the air quality and provides a comfortable and sustainable journey for Sky's passengers.
Fraser Innes, Sales Director at Dawsongroup bus and coach, said, "This has been a fantastic project to be part of, from the early planning to the roll out of the product. We are delighted to have partnered with Cobra Corporate Services in providing this innovative solution for their client and supporting them with the premium service levels required over the years to come."
Martin West, Group Commercial Director at Alexander Dennis, said, "We are delighted to show the benefits of electric buses on staff shuttle services with this largest project of its kind in the country. Our British-built BYD ADL Enviro200EV is a great fit and incorporates unrivalled experience from over 1,000 electric buses on the road nationally, ensuring reliability and peace of mind for Cobra as the operator, as well as Dawsongroup as owner and provider of the vehicles."
Steve Dowling, Director at Cobra Corporate Services Limited, said, "After many months of research, discussions, and preparation to ensure the correct products were used, BYD ADL are the right choice of electric bus for us to integrate into the Sky Zero strategy and the decision to continue the relationship with Dawsons and our chosen infrastructure suppliers made all the hard work that much easier. Pooling in knowledge from the industry leaders in bus and charger manufacturing has enabled a confident launch of service delivery as we enter our operations into the world of electrically propelled passenger transportation."
Frank Thorpe, Managing Director of BYD UK, said, "It is our pleasure to support Cobra and Dawsongroup with our advanced technology and products to implement electric, emissions-free transport for these shuttle bus services. Through our established electric bus partnership with Alexander Dennis, BYD has over 1400 units of eBuses in service or on order across the UK. We are proud to bring our eMobility solution to cities and suburbs, providing local people with a cleaner transport service while accelerating net-zero progress in the UK."
With a fleet of alternative fuel vehicles, from fully electric to gas-powered solutions, and our industry-leading contract hire packages, our Smarter Asset Strategy can help your business adapt as the deadline for zero emissions draws nearer. To find out how we can assist your business in the transition to a greener fleet, follow the link below to book a free consultation with one of our experts.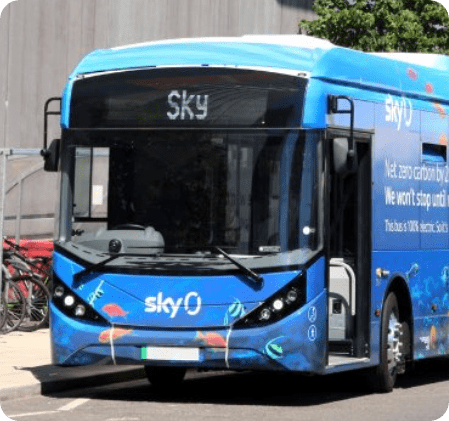 FIND OUT MORE ABOUT DAWSONGROUP | BUS AND COACH, CONTACT US ON LINKEDIN OR EMAIL US TO SEE HOW OUR SMARTER ASSET STRATEGY CAN PROVIDE SOLUTIONS FOR YOUR COMPANY.
DAWSONGROUP'S SUCCESS
AT ROAD TRANSPORT EXPO 2022
As supply chain experts with over 30,000 links in every industry across the UK, the Road Transport Expo 2022 was right up Dawsongroup's street. Three of Dawsongroup's business units – emc, truck and trailer, and material handling – worked together to not only demonstrate our state-of-the-art vehicles, but also how, backed with Dawsongroup expertise and scale, they deliver a Smarter Asset Strategy.
The inaugural Road Transport Expo at the NEAC Stoneleigh was a resounding success. From Thursday 30th June to Saturday 2nd July with extensive indoor and outdoor exhibition areas and over 170 exhibitors, RTX2022 was the result of years of consultation and organisation by market-leading brands Commercial Motor, Motor Transport, Truck & Driver and Transport News. It combined existing shows Tip-Ex and Freight in the City, both of which had their own event zone, alongside other specialist zones, topical seminars, product talks, ride-and-drive experiences and more.
All the big names in HGVs were there. Every type of vehicle was covered in the different areas, from the Cranes & Materials Handling Zone and Waste & Recycling Zone to the Tipper Zone, Tanker Zone and even Truck Racing Zone. Dawsongroup material handling worked with Meredith Hall to showcase Megalift's capabilities, whilst Dawsongroup emc and Dawsongroup truck and trailer had neighbouring stands exhibiting a range of fully electric vehicles.
FIRST OF ITS KIND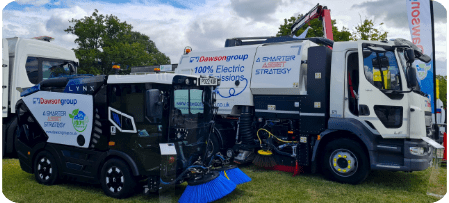 "This is Dawsongroup emc's first show and I'm really pleased with the turnout, right from day one," said Glen Carruthers, Managing Director of Dawsongroup emc. "It has been well worthwhile to attend as we've had lots of interest and potential leads from key decision makers for both ourselves and our other business units. The staff have been fantastic throughout, and it has been great to share the space and work closely with our truck and trailer business."
"We came to RTX open-minded as we didn't know what to expect, but the organisers did an excellent job," said John Fletcher, Managing Director of Dawsongroup truck and trailer. "There was a great feel and vibe throughout the expo. It was nice to see people face to face in a comfortable environment and we had the opportunity to meet with senior people in different industries. We have a fantastic story to tell, and this event has provided us with the perfect platform to tell it. RTX will be on the calendar for years to come after the success of this first event."
PLUG INTO A BRIGHTER FUTURE
Emc exhibited a Bucher V65e truck mounted sweeper, Rasco Lynx Charge, Whale Electric medium volume combination tanker and Tenax Electra 2.0 evos sweeper, whilst truck and trailer showcased their brand-new Carrier Transicold eCool refrigerated trailer and a 7.2t Iveco Daily solar-powered refrigerated truck – all of which are 100% electric and top-of-the-range.
"Our key focus has been on electric vehicles and RTX provided lots of opportunities to demonstrate our assets to high profile decision-makers from multiple sectors," said Alexandra Rowan, Sales Manager North for Dawsongroup emc. "The facility to scan visitors' badges to exchange contact details and make notes worked very well and enabled us to easily and efficiently keep a record of everyone who was interested in further information from us."
Throughout the expo there was a program of seminars on topics as diverse as making the switch to electric vehicles, HGV decarbonisation, the driver shortage, legal privilege, the evolving role of a transport manager, preventing bridge strikes, protecting fleets from criminal freight activity and inspiring female drivers. The Hiab World Crane Championship UK Final took place on Saturday 2nd July, with live demonstrations and practice heats on Thursday and Friday, and a live auction experience, organised by ProTruck Auctions, was also held on the last day.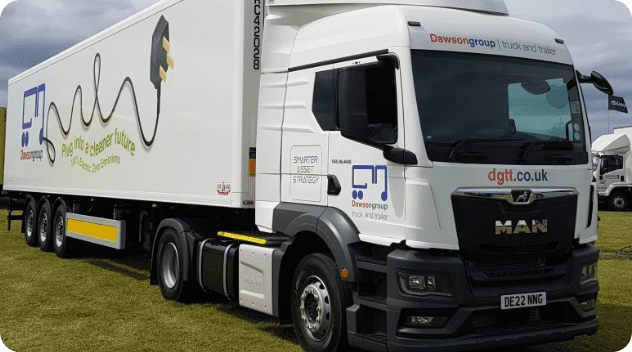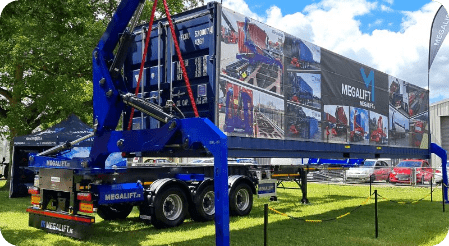 Meredith Hall, Co-founder and CEO of Megalift, stopped passers-by in their tracks every time he demonstrated how Megalift can load or unload a full shipping container in under two minutes.
Adam Reaney, Field Sales Manager for Dawsongroup material handling, said, "It has been brilliant to exhibit Megalift in association with Dawsongroup material handling for the first time, and we've had lots of interest and some good leads from demonstrating its capabilities. RTX2022 is an impressive expo. There is so much equipment variation here, with many non-standard pieces that you don't see every day, and it's made it really interesting."
With Dawsongroup's Smarter Asset Strategy being a key point of interest for potential customers, every member of staff at the event counted it as a success.
"All credit to the team behind the scenes at Dawsongroup, they're the real heroes; prepping the vehicles and organising everything is a massive job, and they often don't get enough credit," said John Fletcher. "Sharing the space with Dawsongroup emc has built the Group presence up and shown more of what we are doing. It also enabled us to build relationships with colleagues from other parts of the company, which we need to do as we are all under the same umbrella – literally on Thursday afternoon when it started raining!"
TO FIND OUT MORE ABOUT THE SOLUTIONS DAWSONGROUP CAN OFFER AND OUR SMARTER ASSET STRATEGY, CONTACT DAWSONGROUP | EMC, DAWSONGROUP | TRUCK AND TRAILER AND DAWSONGROUP | MATERIAL HANDLING.
HOW DOES DAWSONGROUP ACHIEVE SUSTAINABILITY AS A COMPANY?
Paper, plastic, cardboard, metal, batteries, and mixed recycling are collected on a regular basis, meaning the majority of waste is recycled and the little that remains only needs to be collected once a month.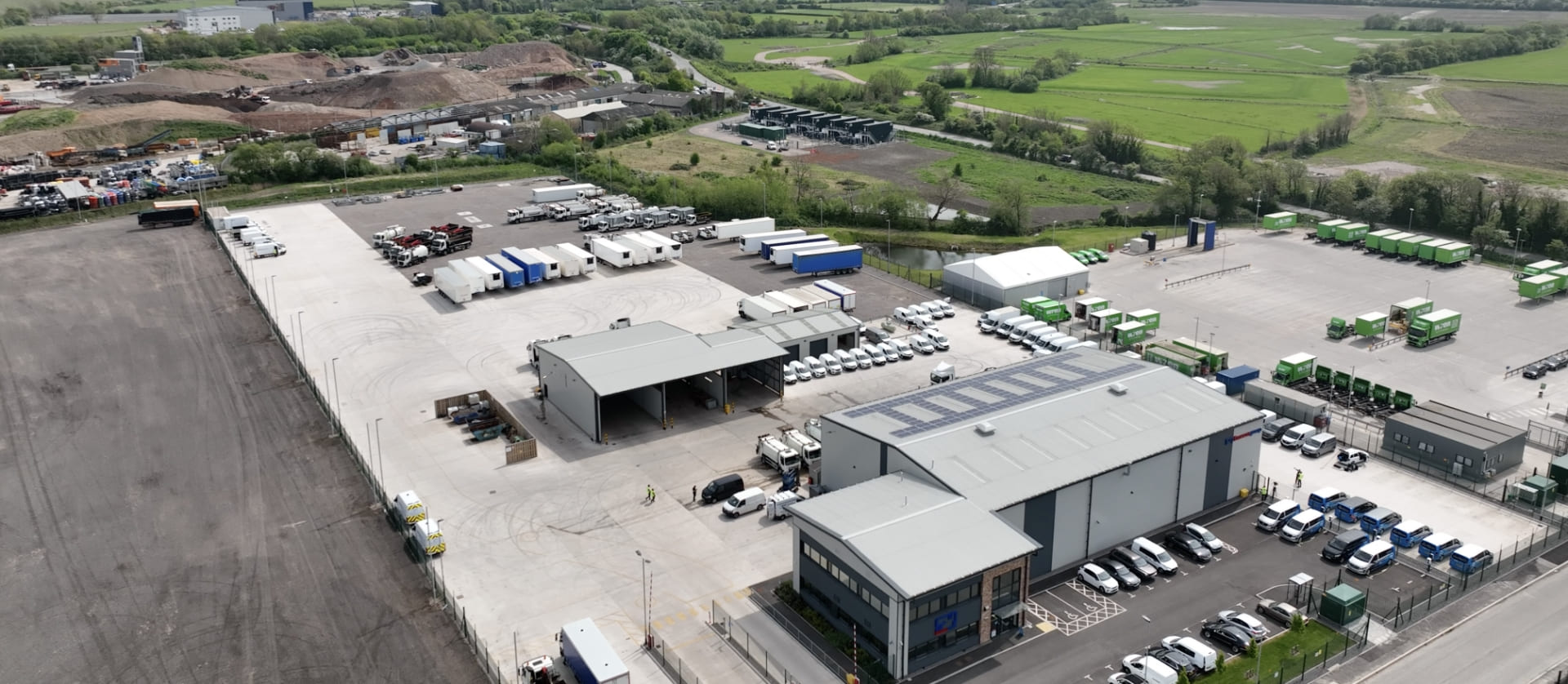 A Large Pond
Affectionately nicknamed 'Dawson's Creek' – fills with rainwater and runoff and therefore prevents flooding in the local area. Specialised equipment separates out any oil from the water before it flows into the nearest stream and back into the water course around Avonmouth.
Wash Bay
On average, 90% of the water used is recycled, making it an extremely effective system. Two 10,000-litre water tanks hold enough water to keep them going whatever the weather. Each time a vehicle is washed, the used water is collected, filtered and treated before being pumped back into the storage tanks, ready to be reused. Although the resulting grey water is not perfectly clean, it is clean enough to wash vehicles which then have a final rinse with fresh water to get the desired shine.

Solar Panels
The roof of the workshops is covered with 215m² of photovoltaic (solar) panels which provide 36kWp of solar power to the site. This covers around 45% of the site's everyday power requirements and saves 10 tonnes of CO2 emissions per year.

LED Lighting 
LED lighting throughout the site and the latest air conditioning system comprising air source heating and cooling, making it more sustainable and efficient in every way possible, whilst also ensuring staff are comfortable.

Eight EV fast charging points
Eight EV fast charging points, each of which are double ported, are located in the main car park and within the vans storage area, ensuring that all kinds of electric vehicles can be charged whether owned by Dawsongroup, staff or visitors.

90% OF THE
WATER USED
IS RECYCLED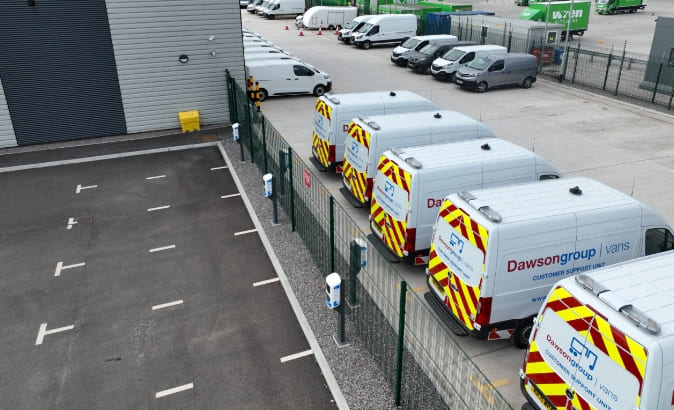 UK Head office
Delaware Drive
Tongwell
Milton Keynes
MK15 8JH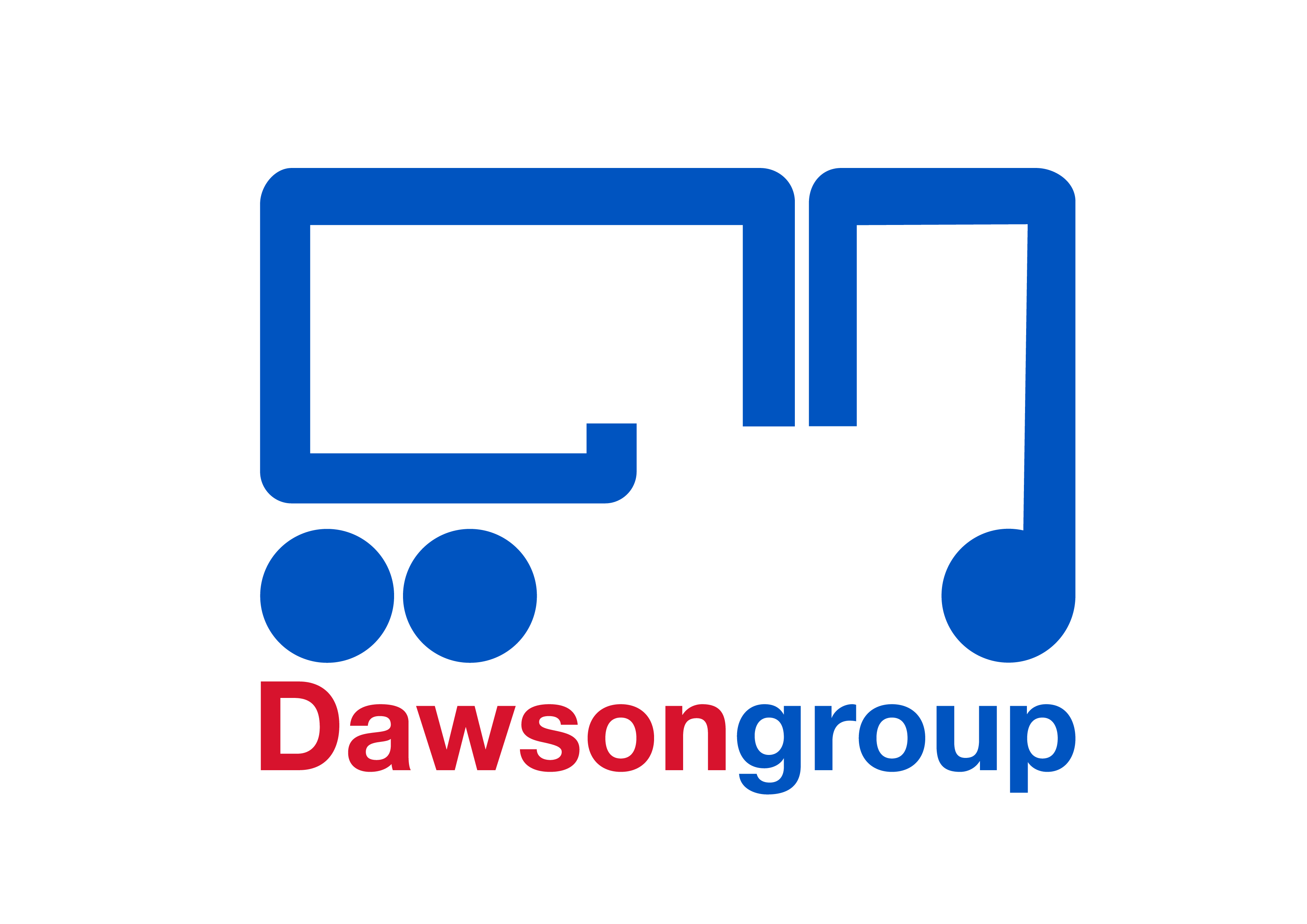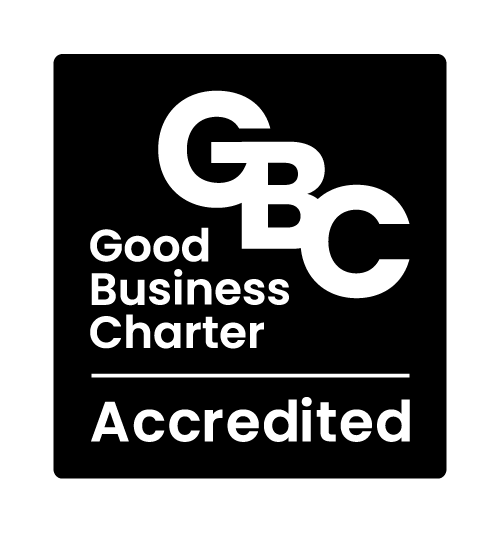 Dawsongroup plc | Company reg. no. 01902154 (registered in England and Wales)