Dawsongroup's Success at Road Transport Expo 2022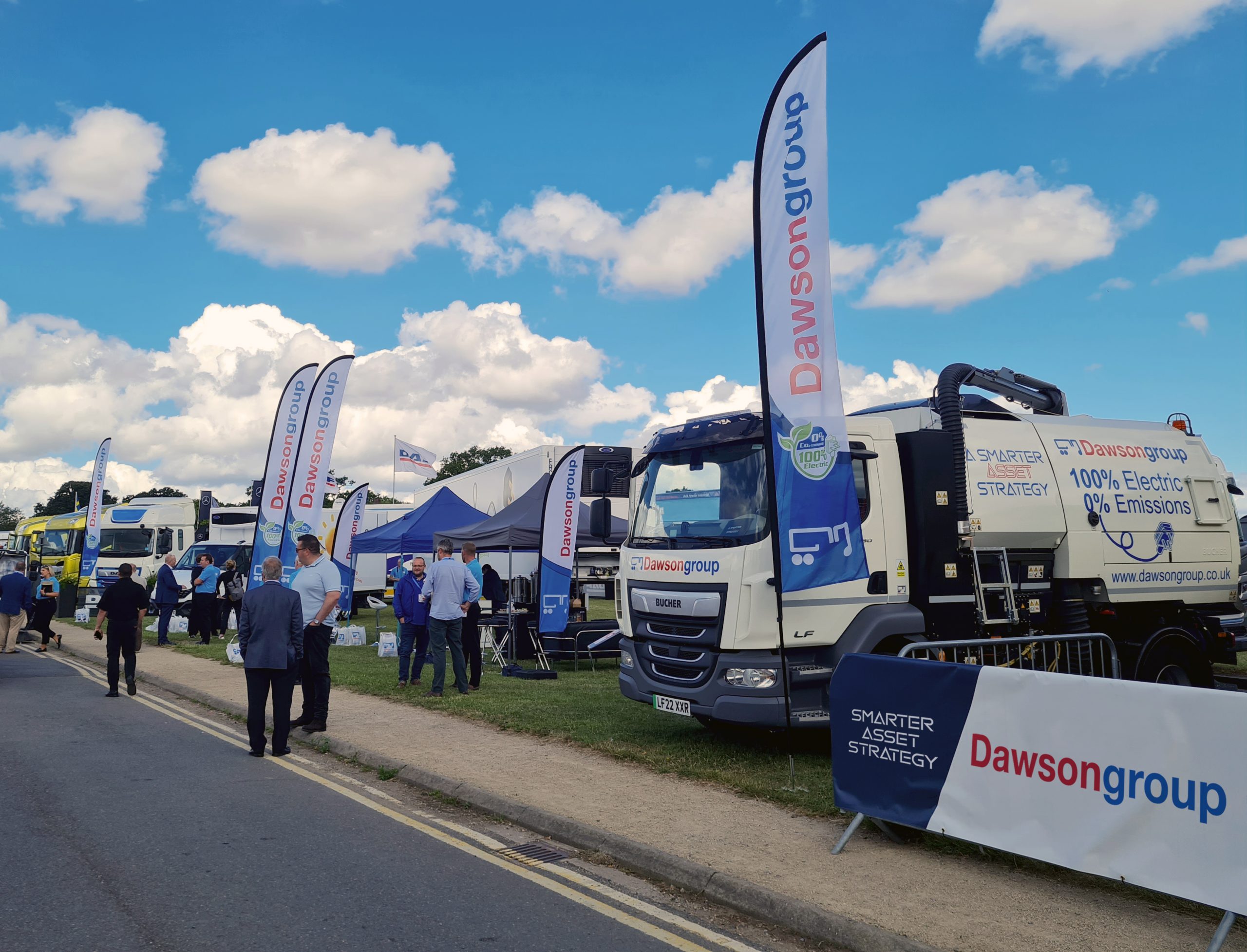 As supply chain experts with over 30,000 links in every industry across the UK, the Road Transport Expo 2022 was right up Dawsongroup's street. Three of Dawsongroup's business units – sweepers, truck and trailer, and material handling – worked together to not only demonstrate our state-of-the-art vehicles, but also how, backed with Dawsongroup expertise and scale, they deliver a Smarter Asset Strategy.
The inaugural Road Transport Expo at the NEAC Stoneleigh was a resounding success. From Thursday 30th June to Saturday 2nd July with extensive indoor and outdoor exhibition areas and over 170 exhibitors, RTX2022 was the result of years of consultation and organisation by market-leading brands Commercial Motor, Motor Transport, Truck & Driver and Transport News. It combined existing shows Tip-Ex and Freight in the City, both of which had their own event zone, alongside other specialist zones, topical seminars, product talks, ride-and-drive experiences and more.
All the big names in HGVs were there. Every type of vehicle was covered in the different areas, from the Cranes & Materials Handling Zone and Waste & Recycling Zone to the Tipper Zone, Tanker Zone and even Truck Racing Zone. Dawsongroup | material handling worked with Meredith Hall to showcase Megalift's capabilities, whilst Dawsongroup | sweepers and Dawsongroup | truck and trailer had neighbouring stands exhibiting a range of fully electric vehicles.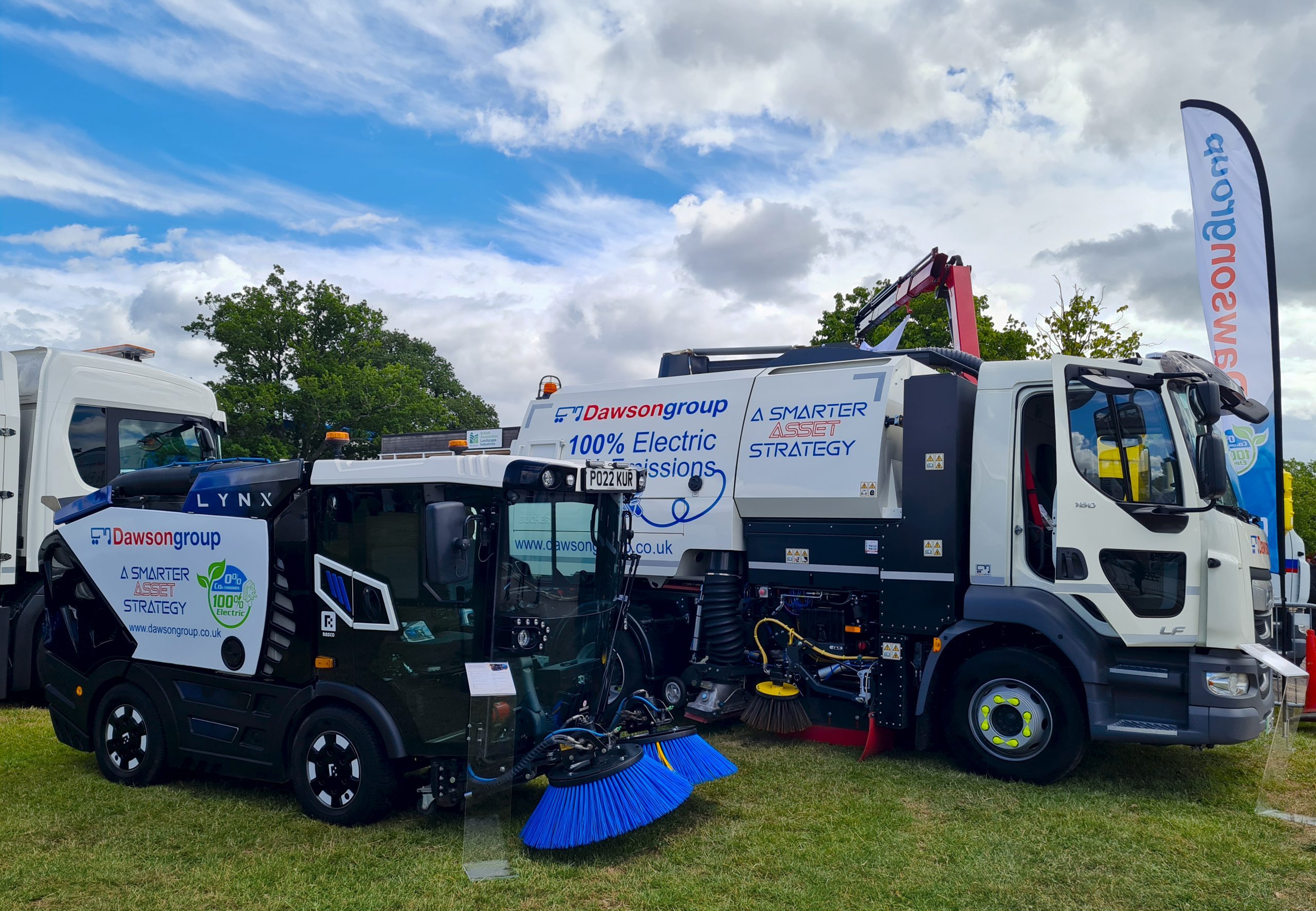 First of its Kind
"This is Dawsongroup | sweepers' first show and I'm really pleased with the turnout, right from day one," said Glen Carruthers, Managing Director of Dawsongroup | sweepers. "It has been well worthwhile to attend as we've had lots of interest and potential leads from key decision makers for both ourselves and our other business units. The staff have been fantastic throughout, and it has been great to share the space and work closely with our truck and trailer business."
"We came to RTX open-minded as we didn't know what to expect, but the organisers did an excellent job," said John Fletcher, Managing Director of Dawsongroup | truck and trailer. "There was a great feel and vibe throughout the expo. It was nice to see people face to face in a comfortable environment and we had the opportunity to meet with senior people in different industries. We have a fantastic story to tell, and this event has provided us with the perfect platform to tell it. RTX will be on the calendar for years to come after the success of this first event."
Plug into a Brighter Future
Sweepers exhibited a Bucher V65e truck mounted sweeper, Rasco Lynx Charge, Whale Electric medium volume combination tanker and Tenax Electra 2.0 evos sweeper, whilst truck and trailer showcased their brand-new Carrier Transicold eCool refrigerated trailer and a 7.2t Iveco Daily solar-powered refrigerated truck – all of which are 100% electric and top-of-the-range.
"Our key focus has been on electric vehicles and RTX provided lots of opportunities to demonstrate our assets to high profile decision-makers from multiple sectors," said Alexandra Rowan, Sales Manager North for Dawsongroup | sweepers. "The facility to scan visitors' badges to exchange contact details and make notes worked very well and enabled us to easily and efficiently keep a record of everyone who was interested in further information from us."
Throughout the expo there was a program of seminars on topics as diverse as making the switch to electric vehicles, HGV decarbonisation, the driver shortage, legal privilege, the evolving role of a transport manager, preventing bridge strikes, protecting fleets from criminal freight activity and inspiring female drivers. The Hiab World Crane Championship UK Final took place on Saturday 2nd July, with live demonstrations and practice heats on Thursday and Friday, and a live auction experience, organised by ProTruck Auctions, was also held on the last day.
Building Relationships
Meredith Hall, Co-founder and CEO of Megalift, stopped passers-by in their tracks every time he demonstrated how Megalift can load or unload a full shipping container in under two minutes.
Adam Reaney, Field Sales Manager for Dawsongroup | material handling, said, "It has been brilliant to exhibit Megalift in association with Dawsongroup | material handling for the first time, and we've had lots of interest and some good leads from demonstrating its capabilities. RTX2022 is an impressive expo. There is so much equipment variation here, with many non-standard pieces that you don't see every day, and it's made it really interesting."
With Dawsongroup's Smarter Asset Strategy being a key point of interest for potential customers, every member of staff at the event counted it as a success.
"All credit to the team behind the scenes at Dawsongroup, they're the real heroes; prepping the vehicles and organising everything is a massive job, and they often don't get enough credit," said John Fletcher. "Sharing the space with sweepers has built the Group presence up and shown more of what we are doing. It also enabled us to build relationships with colleagues from other parts of the company, which we need to do as we are all under the same umbrella – literally on Thursday afternoon when it started raining!"
To find out more about the solutions Dawsongroup can offer and our Smarter Asset Strategy, contact Dawsongroup | sweepers, Dawsongroup | truck and trailer and Dawsongroup | material handling.
To find out how Dawsongroup can support your business with our Smarter Asset Strategy, request a free consultation with a Dawsongroup expert by completing the contact form below.