Vans' Hybrid Solution for UCS Technologies
UCS Technologies is an industry leader in IT infrastructure with a focus on sustainable energy. They install data and communication systems in hospitals, university campuses and offices all over the UK, ensuring their customers have modern, secure and reliable technology.
Directors Paul Kidd and Simon Close, who started working together in 1991 along with Contracts Manager Alistair Dales, saw an opportunity to offer customers a range of modern, secure and reliable infrastructure services that were all completed in-house and delivered at a consistently high standard. They have a committed and enthusiastic team around them, many of whom have worked with them in different businesses, and they are now looking to expand their team further with other people who have the same ethos and attitude.
Whilst communications and energy are their bread and butter, sustainability is at the heart of everything they do. With their existing skill set in communications, Paul knew that they could adapt this to solar energy and so UCS Renewables was born in 2010. Since then, they have expanded their services to include both residential and commercial solar solutions as well as battery storage and EV charging points, priding themselves on helping companies reduce their carbon footprint and save money.
Growing the Business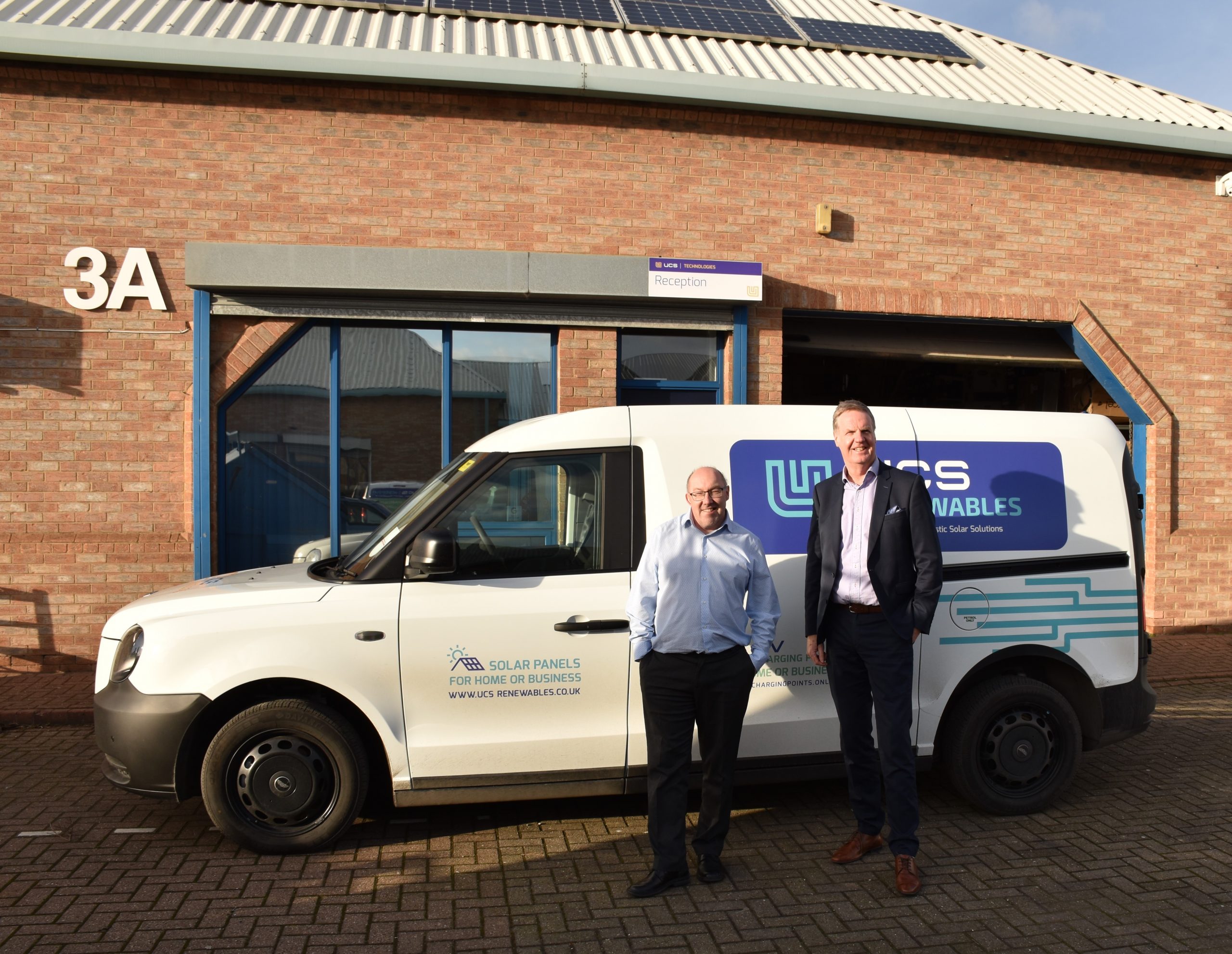 Having worked with Dawsongroup | vans and Gary Henry, Sales Director North, for more than 15 years, Paul brought that relationship to UCS Technologies in 2018. As the business grew, it was essential that their fleet of vans grew too, and Dawsongroup | vans had exactly what they needed. The company has ten Dawsongroup vans on rent with another two on lease through Van Ninja, the Dawsongroup | vans leasing company, and the latest addition to its fleet is particularly special. The LEVC VN5 is UCS Technologies' newest addition to the fleet, and certainly not the last, according to Paul Kidd, Founder and Director of UCS.
"We originally had vans on long-term lease with other companies and found that towards the end of the term there would be a lot of maintenance costs, and it just wasn't economical," said Paul Kidd, UCS Technologies Director. "Dawsongroup has the flexibility that makes sense for us, so we have fully changed our fleet over to Dawsongroup and now we have no more unplanned costs because service and maintenance are included."
As well as providing energy efficient and economical vans for UCS Technologies, Dawsongroup vans also arranged the livery for each vehicle, which meant they were ready to use as soon as they arrived on site. As each of their current vans comes to the end of its three-year hire contract, Paul's plan is to replace each of them with new LEVC VN5 hybrids through Dawsongroup | vans.
Transitioning to Cleaner, Greener Transport
"Our transition to cleaner, greener transport has gained pace with the acquisition of our new LEVC that we have just secured through Dawsongroup. Not only does the vehicle align to our values as a business, it's also part of what we do: providing cleaner, safer energy for commerce as well as household installations, such as EV charging, solar photovoltaic (PV) systems, battery storage and LED lighting," said Paul.
"The LEVC provides us with clean transport for these journeys, but it also has the versatility needed to operate competitively in a growing market. I was really surprised at the storage space; it's not much smaller than a short wheelbase transit. It drives great too, with an amazingly tight turning circle and a smooth drive on motorways. And with the shape of the iconic London taxi, it's a real differentiator on the road. I'm sure this will be the first of many LEVCs as we expand and replenish our existing fleet."
Paul's belief is that to sell a product you have to live with it, so the first solar panel installation UCS Technologies completed was on their own roof. Keeping up with new technologies to minimise the company's impact on the environment is very important, and as part of that ethos they were one of the first companies in the country to install LED lighting throughout their offices. With the cost of energy constantly rising, they want to help people mitigate those costs by providing cost-efficient energy solutions to enable companies and individuals to become self-sufficient through sustainable energy within their own property.
Looking to the Future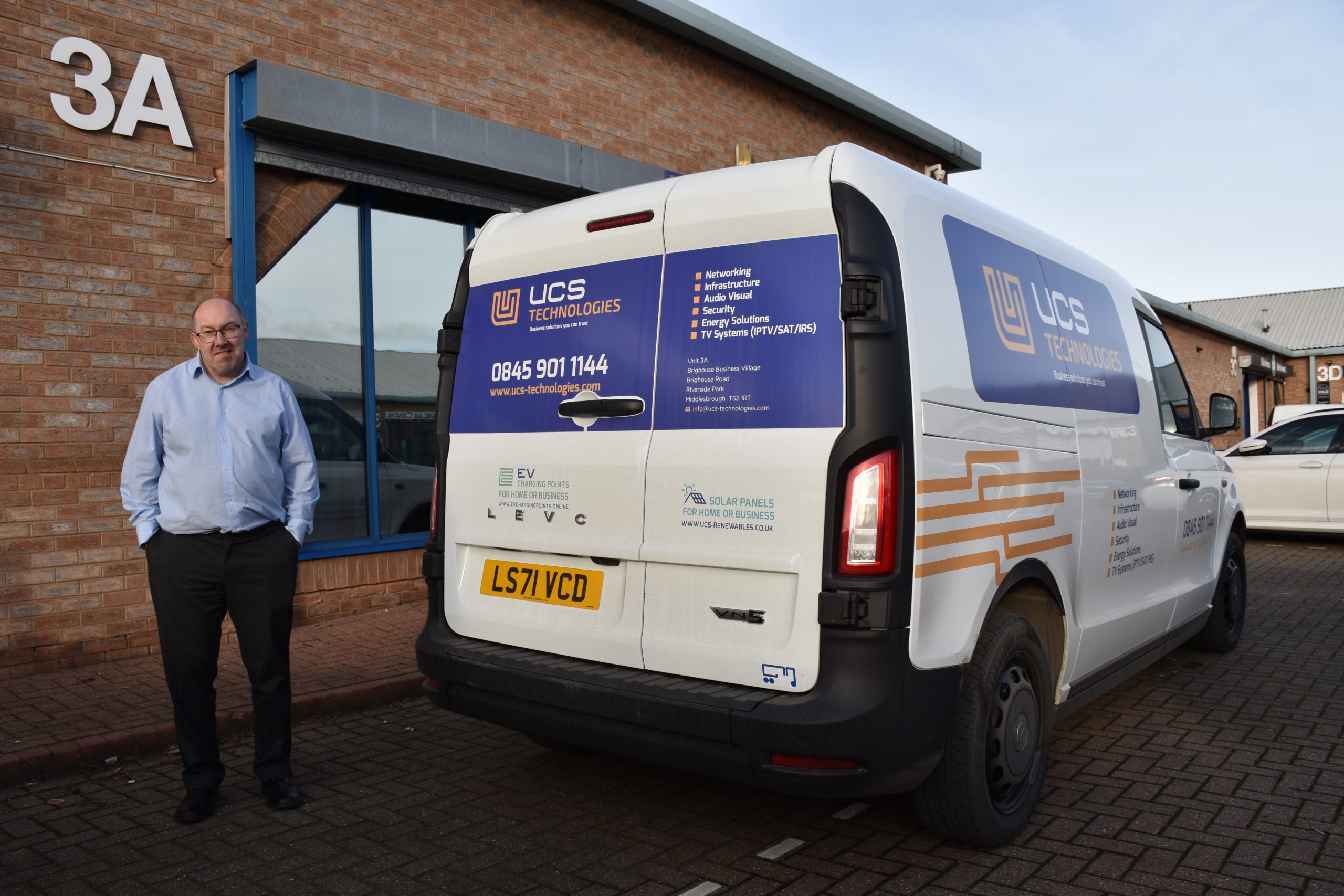 UCS Technologies is a very close-knit company. Everyone who works there has retrained in-house to learn about the products and technology, with many being dual or triple trained in different areas, from project managers to engineers. This allows for a smaller but happier workforce as each day is different, whether working on a school, a hospital, offices or a construction site. Looking to the future, Paul's ambitions for UCS are to continue with the growth of the company and their involvement with employment and regeneration in their local area of Teesside. Their overall aim is to reduce energy bills through the services that they can deliver for people – and the increase in sales at the start of this year has shown that is exactly what they are doing.
To find out about the networking, infrastructure, or energy solutions they can provide, visit UCS Technologies or UCS Renewables.
To find out about the solutions we can provide for your business, visit Dawsongroup | vans or contact us.
Contact us today for a free consultation about transitioning to zero emissions.